Performance Specifications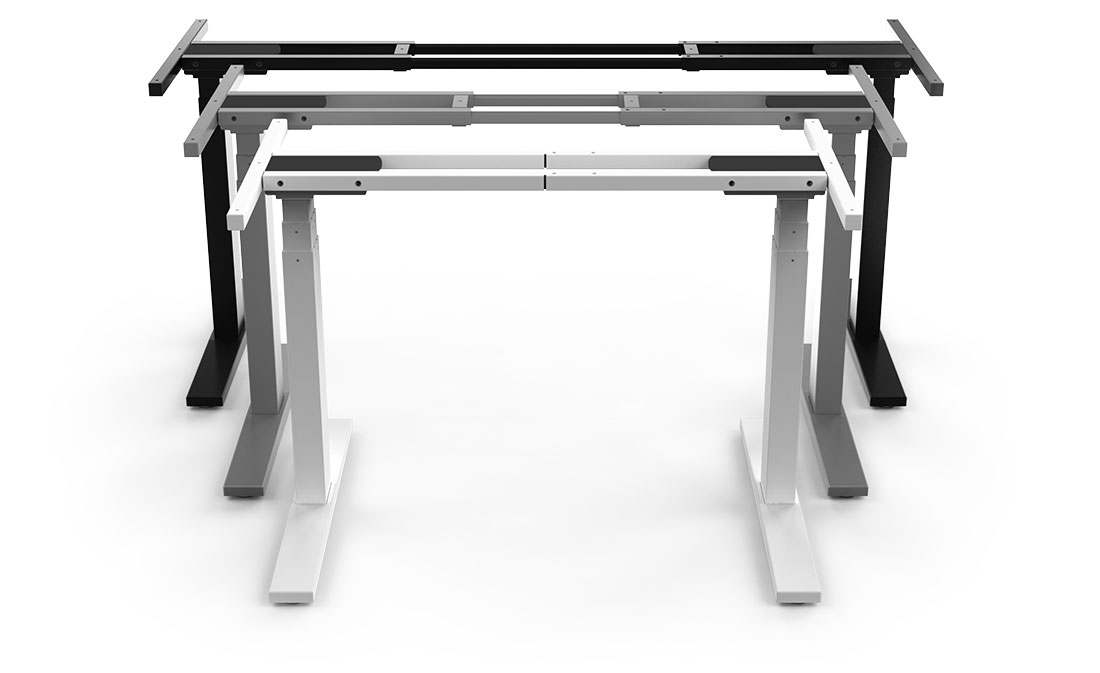 Power-adjustable height with over 200 positions
Low-profile push button height controller | Available in Programmable
Best-in-class 1.5 inches per second transitions
Best in class 300 lbs frame weight capacity
Best in class maximum height: 49.5"
Min height: 23.75"
NookSync™ guidance system ensures precise & level movement
Dust, air, and moisture resistant frame design
Frame and motors are backed by a no-nonsense 3-year limited warranty
Optional Extended Warranty Coverage for an additional 2 or 4 years for 5 or 7 years total.
Desktop Specifications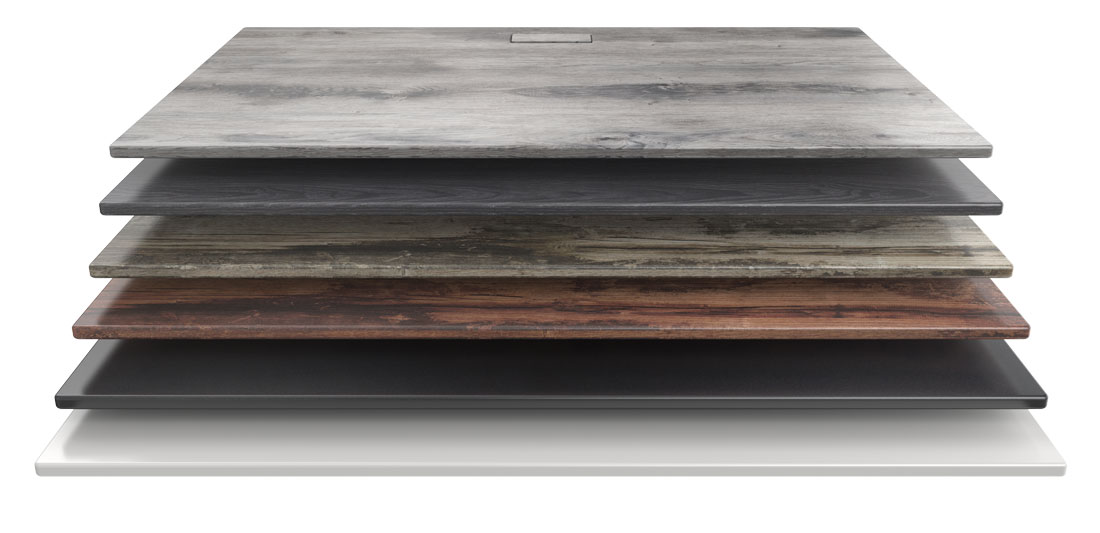 Expandable frame works with any desktop, 48" – 90"
Solvent-free and environmentally friendly finish
Available in solid laminate, wood laminate, Genuine Bamboo, or Genuine Reclaimed Plantation Oak (Rubberwood Tree)
Genuine Bamboo and Plantation Oak protected by 100% solid ultraviolet cured finish (non-VOC and solvent-free)
Soft comfort edges eliminate nerve compression and pressure fatigue
Corners are slightly rounded for improved safety and style
Each Desktop Includes Grommet with Grommet Cover
Desktops are Pre-drilled for quick and easy setup
Available Laminate Desktop Sizes: 48" (30" x 48" x .75"), 60" (30" x 60" x .75"), 72" (30" x 72" x .75")
Available Genuine Bamboo Desktop Sizes: 63" (31.5" x 63" x .75"), 79" (31.5" x 79" x .75")
Available Genuine Plantation Oak Desktop Sizes: 48" (30" x 48" x .75"), 60" (30" x 60" x .75"), 72" (30" x 72" x .75")
Domestic Shipping
NookDesk ships 48" desks, 60" desks and accessories via Fed Ex.
72" or larger desks must be shipped via truck lines due to size.
International Shipping
NookDesk will gladly ship products worldwide to most international destinations. The NookDesk Online Store ships within the United States of America and Canada. If you wish to have an NookDesk or any of our products shipped internationally, please use our contact form to obtain a shipping quote.
Options for home delivery
Desks that are 60" or smaller will be delivered via Fed Ex.
For desks that are 72" or larger, there are two types of delivery options: curbside delivery or inside delivery. With curbside delivery, the driver will bring the desk to the end of the driveway at the delivery location. The driver cannot transport the desk under any coverings or inside your delivery location. Depending on the shipping company, they may remove the item from their truck. The second type of delivery is inside delivery. In this instance, the driver will carry the item inside your home. Extraordinary delivery requirements, such as a multi-level building, may incur additional delivery charges.
Inspecting shipment for damage
Many of our desks are large and rather heavy. Do not sign for a package before you inspect it. First, inspect the box for obvious damage. We then recommend that you open the box that contains the desktop to inspect for concealed damage. Once the driver leaves it becomes the buyer's responsibility to file a claim. Call the carrier immediately for instructions or visit their website for detailed instructions.
Large Desk Deliveries (desks 72" or larger)
The carrier will typically call to schedule a delivery appointment. Appointments are available during normal business hours and a 4 hour period. Please include a daytime phone number in the shipping information at the time of checkout.
Shipping date
Please allow 1-3 days for order processing. Transit time is normally 2-4 days.
Returns
We believe you'll be thrilled with your new NookDesk. We go out of our way to ensure that each NookDesk is designed and built exactly to your specifications. However, we understand that sometimes a product may not fit the space or the needs for whatever reason. In that unlikely event, we invite you to return it.
Under our 30-Day Satisfaction Guarantee you can return your undamaged NookDesk with the receipt and packing within 30 days of purchase for a full refund of the purchase price minus any shipping or installation charges. If the NookDesk is returned within the 30-day timeframe, and it is in its original condition, we'll exchange it for either a new desk or a refund based on the original payment method.
How to return
Prior to shipping your item back to NookDesk, you must call, visit our contact our page to obtain an RGA number. To avoid damage during the return, it is required that you ship any return to NookDesk in its original or equivalent packaging. You must ship any NookDesk product to the address given to you when your RGA number is issued. It is important to write the RGA number on the outside of each box, so we can issue you the credit.
Refunds
Refund processing is dependent upon your original payment method. Credit card refunds will be issued to the same card bank within 7 business days of receipt of the returned item. If you paid via cash or check, we will mail you a check to your billing address within 14 days of receipt of the returned product.
Warranty
At NookDesk, we believe that trust and confidence come from being able to rely on your desk to perform, every day. That's why your NookDesk and its motors are backed by a 3-year limited warranty.
And with the optional extended warranty, you get the same great coverage for an additional 3 or 6 years for 6 or 9 years total. Just sign up for the extended warranty at checkout or call us to extend later.
30 Day Satisfaction Guarantee
In addition to offering a no-nonsense warranty, we also offer a 30-Day Satisfaction Guarantee. Try NookDesk for 30 days risk free, and in the unlikely event that you are not happy with your NookDesk for whatever reason, we invite you to return it. You can return your undamaged NookDesk for a full refund of the purchase price (minus shipping charges) within 30 days of purchase as long as it is in its original condition with the receipt and packing.